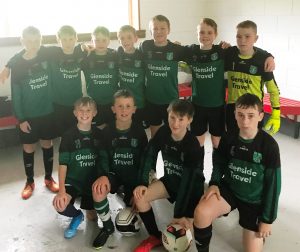 Boys U13s: Samphires 3 v 3 Park (Scorer Aaron Harty(3))
In our first league match last Wednesday we hosted Park A. It was cracker of a game which ended 3 all after a nail biting finish. It was all Fenit in the first half and we took a 3 goal lead through an Aaron Harty hat-trick. We were on top especially in midfield where Tom Quilter and Gregory Clifford had fantastic games. Our defenders Jack McCarthy, Jayden Deady, Dominick Regan, Jack Nolan and Paddy Hanafin were strong as they had to be. Our wide players of Charlie Nolan, Michael O'Sullivan and Kealan O'Dowd were always available for the ball and made good use of it. Cian McKenna, Conor McGibney and Aaron up front were dangerous and probed throughout. We conceded a late goal in the first half which was the only negative of the half. The Park came roaring back in the second half and we played on the counter. The game got stretched and if got a 4th we were home and dry but the Park stood firm and kept knocking on our door. With 10 mins to go they got a second and then a 3rd in the final minute when we conceded a needless free at the edge of our box. Honours even at the end of a great contest. Not a bad start to our season but hopefully we can improve.
Glantine F.C. 2 v 5 Samphires (Scorers Aaron Harty(3), Cian McKenna, Kealan O'Dowd)
Last Sunday we were away to Glantine FC of the Desmond League in our first foray into the FAI National Cup. We ended up victorious thanks to a hat-trick from Aaron and a goal each from Cian and Kealan. The game wasn't at all plain sailing as the score would suggest with the home team having us under pressure throughout much of the first half but we went in 3-1 up a bit against the run of play. We didn't get the ball under control at all as we would have liked until well into the second half but we were spirited, as we had to be to stay in the match. So well done to our boys on their hard earned victory. Thanks too to the Glantine club, who looked after us after the game and presented us with a beautiful pennant to mark the occasion – a nice touch and we appreciate it.