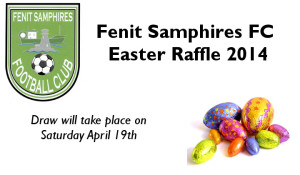 The annual Fenit Samphires FC Easter Raffle will take place on Saturday April 19th. Lines are €2 and can be bought from club managers and players.
4th Prize: Basket of Easter Eggs
Please support your club!!
Update 20/04/2014
Congratulations to the prize winners from yesterdays draw!! Hope you all have a great Easter!!
1st Prize: Aisling O'Sullivan, Ardfert
2nd Prize: Hazel Kelly, Fenit
3rd Prize: Paul O'Regan, Knockanish
4th Prize: Paul O'Connor, Fenit