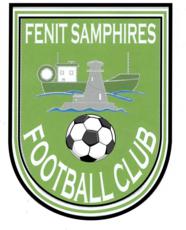 Last Saturday the club celebrated it's 25 years in existence with a get together of old and new in Samphire Park a.k.a. 'The High Field'. Huge crowds came along at various times from 12 to 5 and afterwards in the Boat Club reflecting the growth of the club since it's foundation.
In Sept 1994 Tucker Kelly was elected charman of the newly formed club and immediately went about entering a team in the Kerry League and an U16 team was entered in the Schoolboys league. From then to now, the club has grown to having teams at almost all age groups in both boys' and girls' leagues.
On Saturday, all the different age groups were invited to play games on Tucker's hallowed turf culminating with a match at the end with players from as far back as 1994 taking on the present team in front of the biggest crowd of the day. The present team took an early lead but were reeled in by the old lads who had their shooting boots on. The present team replied with some more well taken goals but with 6 up front they were wide open at the back and the oldies pulled it out of the fire with a number of contentious penalties near the end. Well done too to the underage boys and girls who also played in the game.
We had a total of 10 games on the day each lasting for three quarters of an hour each. There was a great response from players and their parents alike and after each match refreshments were served to all the players and their parents. We had music and fun games throughout the day and again thanks to those who took on those jobs on for us.
Presentations were made to Mary Kelly and Batty McCarthy for their service to the club down the years.
We had an excellent presentation in the away dressing room courtesy of Jim McCarthy (Digimac) who put together a summary of the club featuring interviews and pictures from different periods in the club's evolution and many people who are new to the club were amazed at some of the details of the club's past. It should be noted too that Jim was the first manager of the club's senior team.
Finally we would like to thank all the many people who contributed in different ways to making this important day a good one to remember for the club.