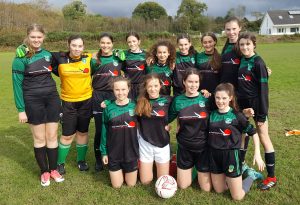 Seniors: Fenit Samphires 1-3 Lifford FC (Scorer Jamie Culloty)
Hard luck to the senior team who were beaten by a good Lifford FC team from Clare in the FAI Junior Cup. We didn't play very well but credit to our opponents who didn't allow us to play. Best for us on the day were David O'Sullivan and Anthony Shanahan.
U16 Boys: Ballyheigue 2 v 5 Fenit Samphires (Scorers Eddie McCarthy(3), Dylan Ryan, Bobby O'Connor)
Our 16 Boys team opened their account last Saturday away to Ballyheigue with hard earned win that wasn't settled until the last 15 minutes. We started brightly and dominated for the first 20 minutes but didn't make it count until Dylan put us 1 up. Ballyheigue forced their way back into it and scored a good equaliser from a free which we failed to clear. 1 all at half time. The 2nd half started as the first ended with Ballyheigue not allowing us too much room and though Eddie scored one for us after 10 minutes, we conceded from a corner, again failing to clear despite having 2 opportunities to do so. We upped it after this and with Rory Burns,Bobby O'Connor and Cillian Lynch on the left combining well we started to get in behind them eventually leading to Bobby scoring a great game. Eddie added another 2 late in the game to put a gloss on things but well done to both teams for a great game. Best for us were Ben Donnellan and Billy Walsh at the back.
U15 Girls:
After a long break from league action,the girls U15 took a trip to Kenmare for our second game of the season. From the start we were under constant pressure from a  more experienced Inter Kenmare team but our back line did well to block shots and put a  few good tackles in penalty area by captain on the day Laura Reilly and Clara O'Dowd. It was scoreless until mid way in the first half but we did concede 2 goals in quick succession. It was hard going after this double blow but we kept passing and creating a few scoring chances from long range by Muireann O'Brien. Despite the best efforts of our goalkeeper Grace Stack, we went down 5 goals in the first half. Second half started much better for Samphires and we almost pulled a  couple of goals back by Lilly Nowak and Isabel Moriarty, but Kenmare goalkeeper was in fine form making great saves to keep a clean sheet for Kenmare. In the last quarter of the game, Kenmare started pushing forward and dominated the game again scoring 3 more goals in the second half. As they pressed forward, there were gaps in their defence and we once again got some goal scoring opportunities but Kenmare's goalkeeper managed to save our shots on target.It was a  hard game for our team but we can take some positives from it – mainly defending as a team under pressure and switching to quick attack when having possession of the ball. Solid team effort against a stronger team, with strong individual performance from Laura Reilly, Grace Stack and Ciara O'Sullivan. We also welcome, playing her first game for the club, Clemence Iglesias Thubeauville.
U9 & U10 Boys
The non competitive u10 league kicked off yesterday with Camp Jrs the visitors to Samphire Park. We had 26 u10s and u9s line out in 3 teams for Fenit Samphires. They played three matches of 20 min duration and therefore all had plenty of playing time which is the aim of these games. Thanks to Camp Jrs for a very enjoyable day. The future is bright!.
U12 Div 1 Fenit Samphires 10 vs Ballyheigue 1 (Scorers Mikey Corridan(3), Dara Harty(2), Michael O'Sullivan(2), Cillian O'Brien (2), Austin Donnellan)
A comprehensive win for Fenit versus a weakened Ballyheigue team. We were dominant from the start and went ahead 4-0 in the first half with goals from Mikey Corridan x 2, and Dara Harty and Michael O'Sullivan. We had a strong defence with Paddy Hanafin, and Robert O'Shea at the centre with Austin Donnellan and Luke O'Carroll providing support at full back. The 2nd half saw us pull away comfortably with further goals from Mikey, Dara , Michael and Cillian O'Brien. We overplayed the ball in the last 10-15 minutes but when we passed and moved we looked good in possession. Overall a good performance but with further improvement required. Best for Fenit was Austin Donnellan who worked tirelessly on the right wing.
U12 Div 2 North Fenit Samphires 3 vs Castleisland 1 (Scorers Diarmuid Murphy(2), Roman McGarry)
A great win for this team with terrific performances from all. Easily our best performance of the season. We conceded to a strong Castleisland team and despite a couple of big chances we went in one down at half-time. We came fighting back however in the 2nd half and equalised through Diarmuid Murphy. We piled on the pressure and went one up with a fine strike from Roman McGarry. Colm O'Sullivan , Eamonn Wiseman and Sean Cronin were excellent at the back with Conor Nolan strong in goals. Gavin Deasy, Diarmuid, Joseph Fitzgerald and Cillian provided a lot of bite in midfield and were always full of running and we had impact from the subs in Eoghan and Cillian Foley . We finished off the game in the last 10 minutes with another goal form Diarmuid. Best for Fenit was Sean Cronin at right back but all deserve praise for a fantastic performance.