Visit by Damien Delaney
Last Tuesday morning we had a visit from Damien Delaney to our club in Fenit. The visit was arranged at short notice so apologies to anyone who didn't know about it and would have liked to attend. The Ex Irish international and Virgin Media soccer pundit ran a coaching session for our U16s with many coaches watching on. It was top quality and equally as good was the Q&A we had before and after the session. It was obvious how passionate and knowledgeable he is about the game and spoke to the boys at length during the session. Our players showed great interest in his career and how he came to be a professional, from growing up playing with Avondale in Cork, persuading his mom to let him do a Fás soccer course, to moving on to Cork City, moving then to England where he played with Crystal Palace for 6 years in the Premier league (among others) as well as representing his country. The single piece of advice he repeated was for anyone seeking to go down that path is how hard you must work and take on board what your coaches/managers ask you to do every day despite the knocks you get from time to time. It was really a great day and our club would like to offer our deepest thanks to Damien and also to John Chute and everyone else involved in getting Damien to Fenit.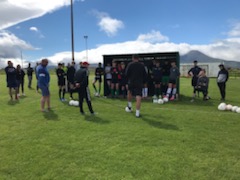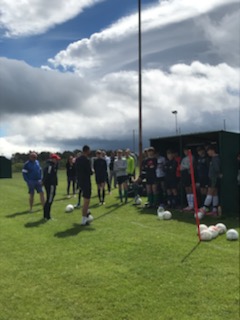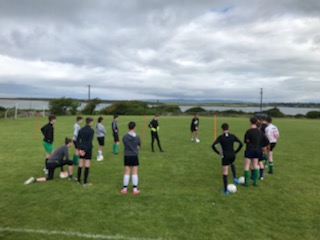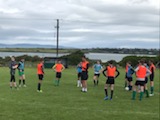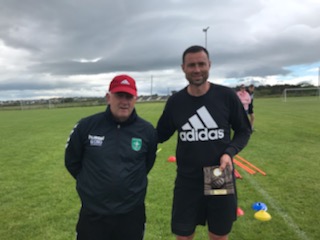 Seniors: Samphires 1 v 0 Tralee Dynamos (0:0 HT). (Scorer Ger McCarthy)
Well done to our seniors who played their first game in a very long time just about defeating Dynamos in a very tight game in Fenit last Thursday evening. There weren't too many cobwebs on view where both teams levels of fitness and touch were quite good. Both teams ran the bench in the second half of the match as players tired a bit. Ger Mac scored the decisive goal though in truth both teams created a small number of chances and it looked like whoever scored first would be in the driving seat and that's how it played out. Well done to both teams and to the ref for giving the decent sized crowd a good game.
Seniors Classic B 0 v 3 Samphires (Scorer Dara Heim, Connor Lenihan, Ger McCarthy)
Another victory for the seniors last Sunday with most players getting a run out. Well done again.
Boys U16s Shield: Park 3 Fenit Samphires 2 (Scorers Billy Walsh(2))
A very brave performance from Samphires came up a just short against a fully loaded Park side who took the lead after a counter attack after 10 minutes. With the wind we settled and had numerous half chances throughout the remainder of the first half before Billy Walsh netted from a fine Alex McGrath cross. Samphires went ahead early in the second half when Billy netted again. Park upped the ante and pressed for an equaliser when the scored followed a direct free kick after 2 successive David Chute parries. Park's third goal came soon afterwards and with 15 minutes remaining Fenit continuously pressed and came close with a Michael Tansley free kick. Best for us in a great team performance were Michael Tansley, Donagh Murphy, Alex McGrath and Tomas Godley
Boys U14s : Park 2 v 2 Fenit Samphires  (Scorers Dominick Regan, Cian McKenna)
A poor display by our team left us with a draw against an understrength Park team in town last Saturday. We failed to fire in the first half before coming alive to some extent in the second half when we chased an equaliser which we eventually forced with an excellent free by Cian McKenna. Best for us were Jayden Deady and Dominick Regan who were consistent throughout.