Seniors: Samphires 2 v 1 Asdee (Scorers Joe Carmody, Billy Walsh)
Our seniors picked up their first league points of the season with a hard earned but deserved win over Asdee on Sunday. We played some very good football throughout with some good link up play between our midfield and front 3. Joe Carmody put us 1-0 up mid way through the first half with a clinical finish after being put through on goal with some clever build up play. The second half was tough going as we played against a stiff breeze but we continued to get the ball down and play. Asdee created a couple of chances with Paddy O'Sullivan making some smart saves and they eventually forced an equaliser. Our lads responded very well and Billy Walsh scored from close range shortly after to restore our lead. From there we managed the game quite well and defended our lead to see the game out. A good result for the lads after a difficult start to the season. Thanks to Asdee for a tough but sporting game and thanks to referee Anthony Morrison.
Boys U16s: Samphires 0 v 1 LB Rovers
The Boys 16s hosted LB last Saturday in a wintry Fenit. We had a good amount of possession throughout but were unable to score, unlike LB, who scored after 25 minutes with a well taken shot from outside the box. We played quite well overall with a few players in new positions where they acquitted themselves well in their new roles, but it's back to the drawing board at training during the week. Hopefully we'll bring our shooting boots.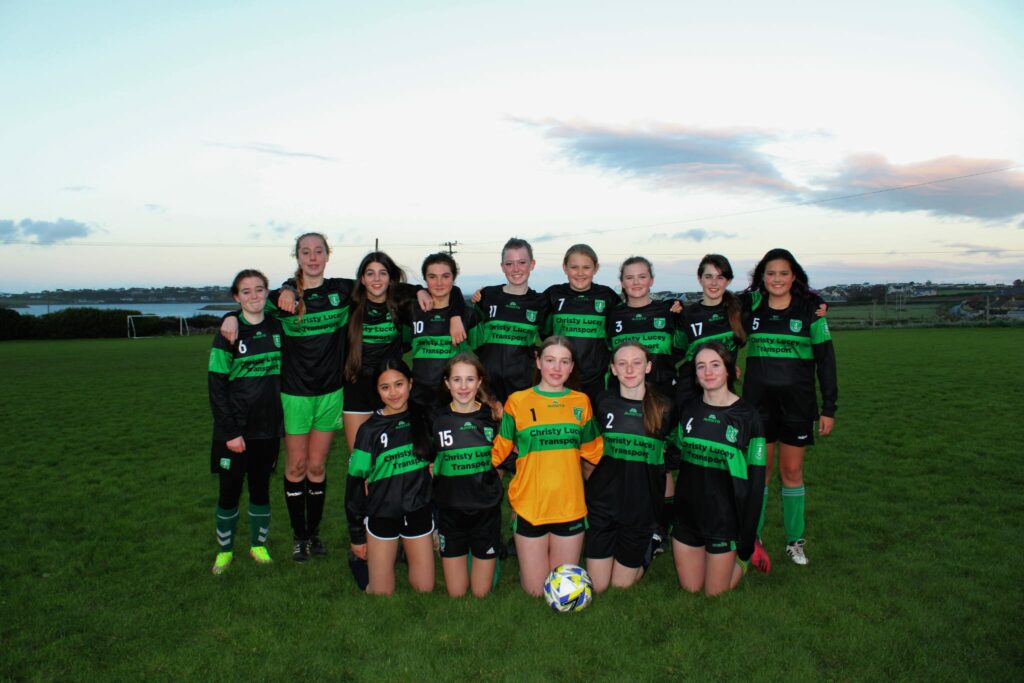 Girls U15s: Samphires 6 v 0 Mastergeeha (Scorers: Alisha Deady(3), Siofra Murphy, Emma Gaynor, Grace Reilly)
Our u15s had their first win of the season on Saturday in the girls Premier Division verus Mastergeeha. Two goals from Alisha Deady and one each from Siofra Murphy, Emma Gaynor and Grace Reilly. Special mention to Sabhdh Walsh who was really assured in goal. Thanks too to Mastergeeha, who never gave up, for a sporting game.
Kerry Girls U15s: Well done to Grace Reilly who was part of the Kerry team that had a great away win versus South Tipperary in the inter leagues competition.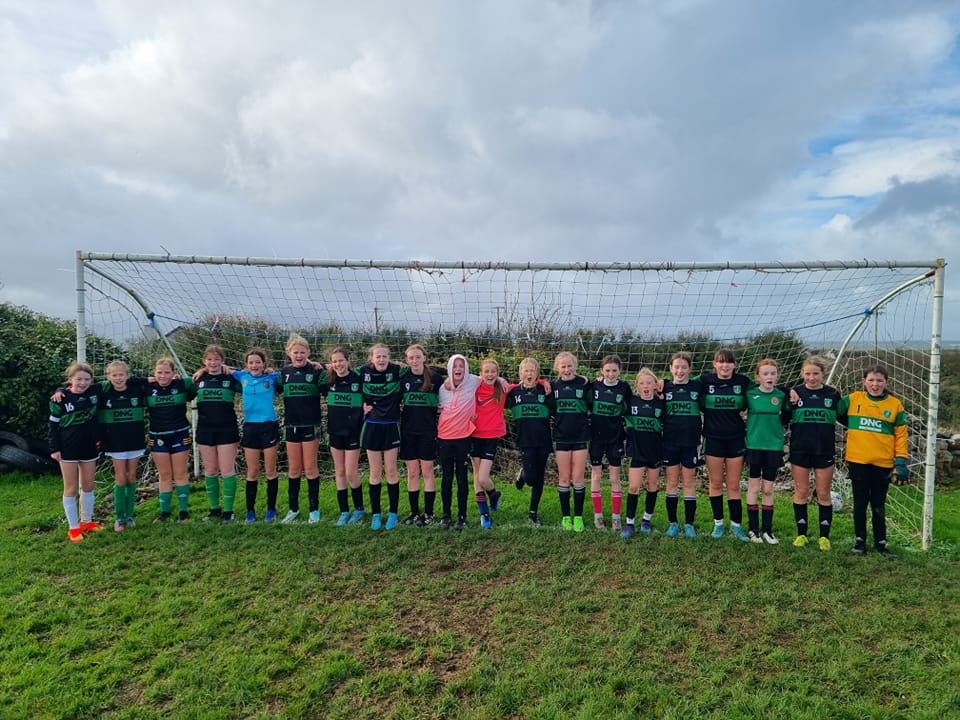 Girls U13s: Samphires 3 v 2 Castleisland (Scorers: Ava Flaherty(2),Sadhbh Dowling)
A great game in very tough conditions at home last Sunday, our u13 team remain unbeaten and are up to second in the table after going 3 goals up thanks to two goals by Ava Flaherty and a brilliant strike from Sadhbh Dowling. Castleisland made it a nervy finish thanks to two late goals but the girls held out for a well deserved win. Thanks to Castleisland for a sporting game and well done again everyone.
Well done to Fenit Samphires Evie, Sadhbh and Sarah who represented Kerry U13 Girls on Sunday in an 8-1 victory over West Cork.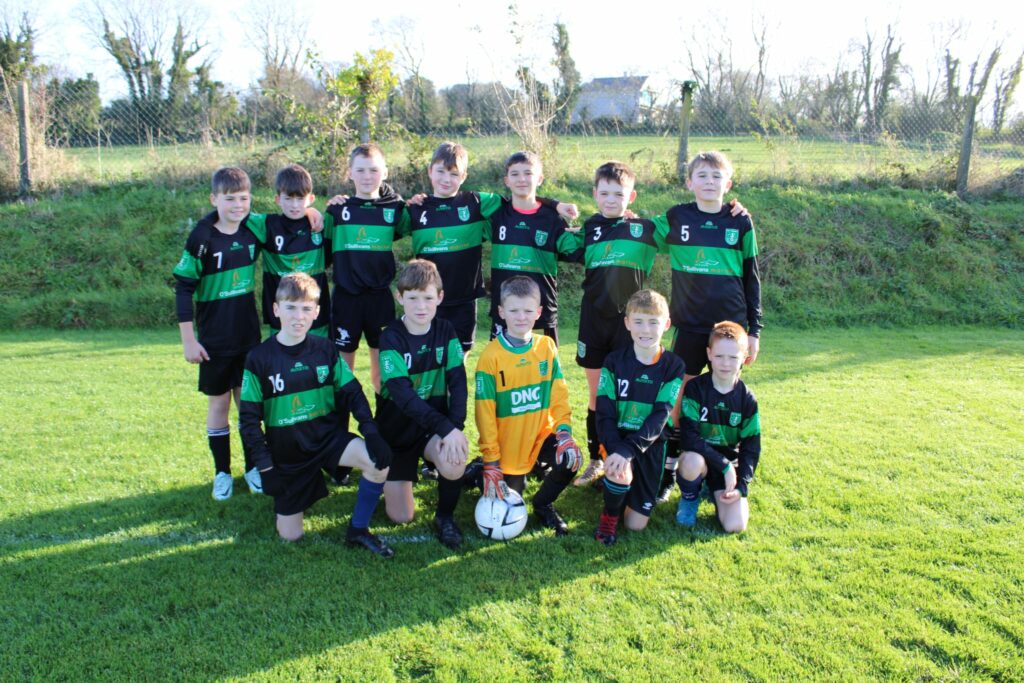 Boys U12A Ballyhar 1 v 0 Samphires
Our Boys U12 Div 1 team travelled to Ballyhar on Saturday morning. The team performed really well against a strong Ballyhar team. We defended well against the wind in the first half and were unlucky not to score ourselves and hit the woodwork a couple of times. We had a lot of possession in the 2nd half but couldn't get the goal. At the other end Patrick Egan was in inspired form in goals and made some brilliant saves. Ballyhar shaded it 1 – 0 but we can take a lot of positives. Thanks to Ballyhar for sporting game.
Boys U12B: Samphires 0 v 1 Tralee Dynamos
Hard luck to our 12s who had a great game against Dynamos. We just about lost out 1 nil after a fine performance. We had a lot of possession and chances but failed to capitalise.
Boys U11s: Well done to the boys U11s who had a very good performance against LB Rovers in Fenit last Saturday afternoon. There was lots of skill on view and a good few goals and saves too. Scorers for us were Oran Flaherty(2), Fionn Lyons, Fionn McCarthy and Elliot Savage. Well done to all the boys.
Congratulations and well done to Luke O'Carroll, Dara Harty, and Robert O'Shea who represented Kerry against Galway, Mayo and The Midlands on the 2nd Nov with FAI up in Dublin. Keep up the good work lads!