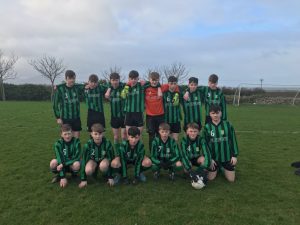 Girls U10 Community Games:
Well done to the u10 Fenit Samphires Girls who represented Spa Fenit Barrow in the community games on Saturday coming away with Bronze….the future is bright!
Seniors: Samphires 1 v 4 Killarney Athletic (Scorer Chris Murphy)
The Seniors disappointing season continued last Sunday when we were defeated by a better Killarney Athletic side. We were down 1 nil at the half but early in the second half our best player on the day, Chris Murphy, equalised and soon after we might have got a penalty for handball but the ref was unsighted and Athletic got away with it but they soon established a 2 goal lead in the middle of the 2nd period. We tried to get it back but were open to the counter attack and were punished again at the end.
Girls U17s: Samphires 0 v 2 Listowel Celtic (0:1 HT)
It was always going to be  a hard game against the league leaders in wet and challenging conditions Sunday morning in Fenit. Due to late withdrawals we were down to 10 players (only 3 from U17's age) and needed to call on Grace from the U13s to get a full team. Playing against the wind in the first half we defended very well thanks to our back four and Lilly in goals making 2 outstanding saves. Listowel did eventually manage to score from a corner in the last minute of the first half. Weather (and pitch) conditions deteriorated in the second half and as we battled all over the pitch our energy levels were dropping. Not having any subs, we could not bring fresh players to the game and conceded 4 more goals late in the game. Well done to all the younger girls who rose to the challenge and helped out the U17 team against very strong opposition.
Boys U15s: Tralee Dynamos 5 v 2 Samphires (Scorers Donagh Murphy, Oran Murphy)
Despite playing well for a good bit of the 1st half we found ourselves 4-0 down at halftime, didn't press or close down space quickly enough while Dynamos were ultra clinical in front of goal. We upped our game and pace of play considerably in the 2nd half, more aggressive and deservedly scored a couple and missed a sitter. Dynamos scores a fifth in injury time to secure the victory and the U15 Div 1 title and well done to them. At the same time all our lads did their best throughout but a lack of intensity when the game is in the balance is something we can look to improve on.
U15 Shield : Fenit 5 KillorglinB 1
We continued their good run of form of late with a thoroughly deserved win at home in Saturday. With the wind Samphires took the lead after just 6 minutes when an Oran Murphy free kick which eluded everybody including the visiting keeper. Oran scores his and our 2nd after he lobbed the keeper following a fine through ball by Alex McGrath. As often happens with this team, we then took a collective break, allowing Killorglin to pull one back 10 minutes later after some really sloppy play by the home side. The two Cians combined very well outside the box 5 minutes from halftime before Cian O'Gara made it 3-1. Playing into the wind in the 2nd half, Fenit, not for the first time this season upper the ante and dominated possession. Alex Mc Grath made it four after nicking the ball off their keeper and Cian O'Gara got his second and our fifth at the death. Ronan Kelly was unlucky to strike the crossbar before then with a fine effort . Our best were Oran Murphy, Cian O'Gara, Donagh Murphy, Ethan Gaisey and Paddy Falvey.
Girls U13s:Samphires 4 vs 4 Iveragh (Scorers  Elisha Deady (3), Sarah OSullivan)
What a cracking game of soccer last Saturday. The girls never give up attitude is paying off…. 3-1 down in the 2nd half most teams would have given up but to fight back, level the match, go down another 1 again and get the last minute equaliser says enough about the characters we have. Well done to Eva Nolan who captained the side, Maeve Trant who was girl of the match and scorers Elisha Deady (3) and Sarah OSullivan, securing our Division 1 status. Our back line played well and with Riona, Talyor and Miah driving us forward we deserved this result especially when our goalie kept us in it many times!
The other U13 Girls team played under lights last Friday evening in the KDL against Park. All really enjoyed this experience and while results didn't go their way they are continuing to improve.
Boys U13s: Samphires 2 vs 0 Killorglin (Scorer Michael O'Sullivan (2))
We secured our first victory in the Premier Division in a rearranged match last Wednesday played under lights in Tralee. With both teams missing a couple of regulars, it was a chance for some other players to show what they can do and both squads served up quite a good game. It was nil all till 10 minutes to go when we applied pressure to eventually get 2 goals through Michael O'Sullivan who was dangerous throughout. Aaron Harty and Keelin O'Dowd created the goals with some clever passing/movement. It was our best performance of the season and it would be wrong to single out anyone in particular as player of the match so well done guys. Samphires abú!!
Boys U11s: Samphires vs Killarney Athletic
The U11 teams played their first Cup and Shield games in the group stages. Two very good Killarney Athleitic teams came to Fenit for these fixtures. There was huge amounts of quality  soccer on display with amazing passing movements by all teams participating. Of note were 3 players: Nathan Lewis, Brian Kelly and Eamonn Wiseman in Defence. Congratulations to all for two wonderful performances.