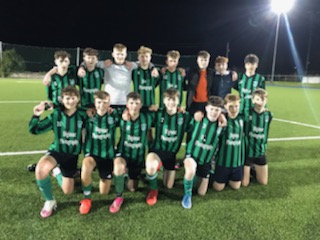 Seniors Premier B: Samphires 3 v 2 Ballyhar Dynamos (Scorers Ger McCarthy, Oisin O'Brien, Dara Heim)
Well done to our seniors who beat Ballyhar 3-2 in Fenit on Sunday. We were 3 nil up and quite comfortable midway through the second half when our opponents scored on a rare braekaway. This immediately gave Ballyhar impetus and forced a series of corners which we didn't deal with very well, they scored a second and it was game on. At this point however our team settled themselves and went back to keeping the ball and we saw the game out to secure the win. Well done to both teams who served up such a good game.
U17 Boys National Cup: Samphires 3 v 1 Newcastlewest (Scorers Billy Walsh, Oran Murphy, Rory Boyd)
Fenit U17s produced a masterclass performance to defeat their Limerick visitors at the KDL in perfect conditions. Dominant the off with captain Michael Tansley, leading by example, Fenit deservedly went ahead after 15 minutes when Billy Walsh ghosted in at the far post to open the scoring. 10  minutes later after magnificent passing about the visitors box, first Michael Tansley and then Oran Murphy struck the posts. Luke Casey had a magnificent chance just afterwards to make it 2 before Newcastlewest scored on the break , a low shot to David Chute's right, giving him no chance. 1-1 at the break, Fenit regrouped and continuously probed while their central defensive partnership of Jerh Brosnan and debutant Brian O'Donnell broke wave after wave of Newcastlewest attacks. Oran Murphy broke the deadlock with a pile driver from outside the box and you sensed it was going to be Fenit's night. Newcastlewest threw everything into attack before substitute Rory Boyd latched on to another goalkeeping error to scored the killer goal 3 minutes from time to seal the win.
Under 13 Boys Premier: Tralee Dynamos 2 v 1 Samphires (Scorer Mikey Corridan)
The Under 13 premier team played Tralee Dynamos in Tralee on Monday 20th of September. In the first half a strong wind blew in favour of Dynamos, and it defined this period of the game. Dynamos had multiple chances but some fantastic defending by Dara Harty, Austin Donnellan and Diarmuid Murphy held Dynamos scoreless. The second half was a more even affair with chances by both teams. Dynamos took the lead with a superb goal against a run of play, but the Samphires boys rallied and created a few quality chances without scoring. Then Dynamos struck again and we were two nil down with ten minutes to play. We stuck with the task and Mikey Corridan scored a breakaway goal. Three minutes later Mikey got on the end of another quality through ball but a great save by the Dynamos goalkeeper denied us a draw. The Game finished 2:1.
U13 Boys Division 2: Camp Juniors 7 v 2 Samphires (Scorer Cillian Foley (2))
We played Camp Juniors in the KSBGL last week in Camp. We went one goal up as Cillian Foley score our opener, an amazing lob over the Camp keeper from twenty five yards out. Both teams were evenly matched and Camp equalised ten minutes later from a free kick.
Both teams had period of dominance which was largely defined by the intermittent strong wind, Camp scored again from open play to put them 2:1 up at the half time whistle. But soon after half time Cillian Foley struck again with a free kick from outside the box. The team played really well with some good interpassing and brave defending under pressure. Of note was Rory Clifford, Oisin Murphy, and Cillian Burns in oals whgo pulled off two Hollywood saves. Camp went ahead and the game ebbed and flowed at 3:2 to Camp until eight minutes before full time when Camp scored four goals in quick succession to make it 7:2 final score. Cillian Foley was unquestionably the man of the match. Well done to all the boys for a fantastic effort, next game is Ballyheigue away.
U13 Boys Div 2 North: Samphires 5 v 3 Ballyheigue (Scorers Cillian Foley (4), Eoghan Wiseman)
Our U13 Div 2 North team played Ballyheigue at the Ardfert Astro on Tuesday 21st September. From the start Ballyheigue put our boys under a lot of pressure, a number of absolutely fantastic saves by Cillian Burns held Ballyheigue scoreless for twenty minutes of the first half. But eventually the pressure mounted and we conceded three goals, all of which were of a high quality. At half time we regrouped, and in the second half we focused more on team positioning, and moved Cillian Foley from Midfield to the ten position. It wasn't long until Cillian found enough space to slot away four goals, all Cillian's goals were assisted by Eoghan and Eamon Wiseman, Oisin Murphy, and Nathan Lewis. Ballyheigue did threaten our goal, but again Cillian Burns came to the rescue. To finish the game Eoghan Wiseman got on the end of a brilliant pass, and made the final score Fenit 5, Ballyheigue 3. A solid performance by all the boys, well done.
U12 Boys: Samphires 14 v 1 Ballyheigue
We started off our season with a resounding 14-1 win against Ballyheigue. A wonderful performance from everyone considering for several boys this was their first ever competitive game of soccer. Some lovely passing and a desire to help each other the 2 standouts from a great win.